A Testament to Pure Links Golf
Welcome to Cape Wickham Golf Links; a unique collection of coastal holes cleverly routed around Cape Wickham Lighthouse. This course is a testament to pure links golf that you will not soon forget!
Construction of the course was completed in late 2015, under the watchful eye of co-designers Mike DeVries (USA) and Darius Oliver (AUS), and quickly gained international recognition in the world rankings. Since then avid golfers have continued to travel from all around the globe to visit King Island in order to experience Cape Wickham Links for themselves.
The Architects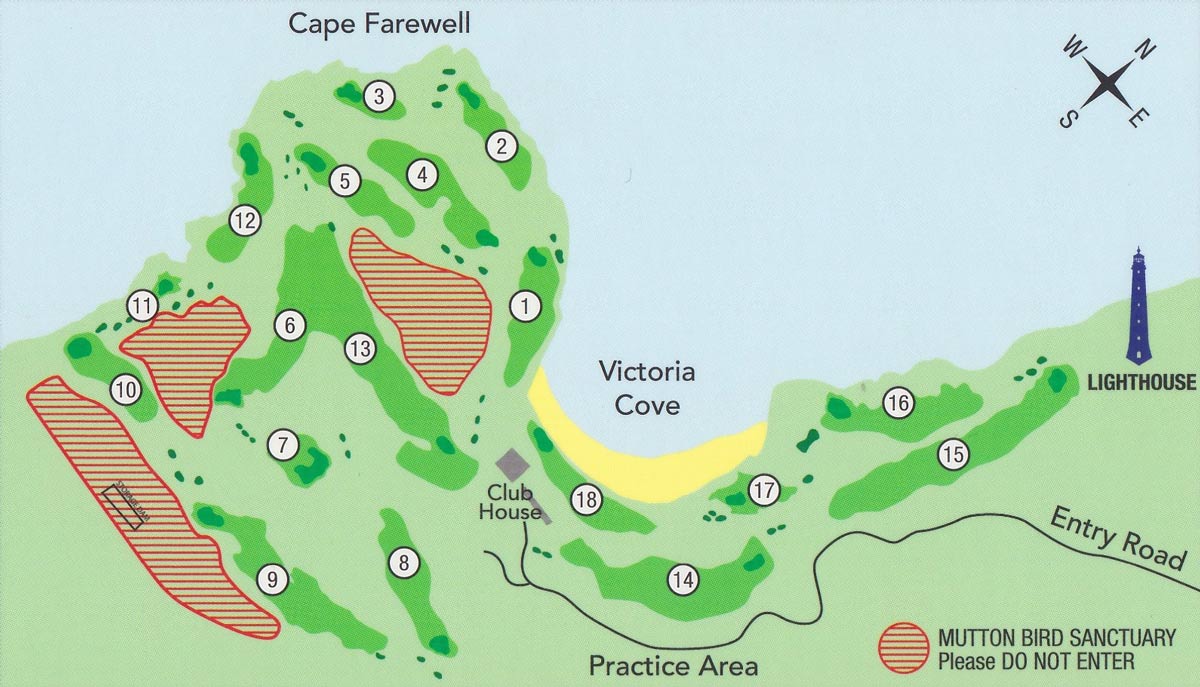 Every hole on the course has an ocean view, which is extremely rare, and no 2 holes are the same. The undulating course normally plays firm, allowing the imagination to go wild with limitless shot-making possibilities. Tees, Fairways and Greens are all seeded with fescue grass, following in the footsteps of the old traditional links courses in Scotland and Ireland.
| | | |
| --- | --- | --- |
| Hole | Length | Par |
| #1 | 340 | 4 |
| #2 | 330 | 4 |
| #3 | 170 | 3 |
| #4 | 393 | 4 |
| #5 | 329 | 4 |
| #6 | 447 | 5 |
| #7 | 137 | 3 |
| #8 | 384 | 4 |
| #9 | 488 | 5 |
| #10 | 327 | 4 |
| #11 | 136 | 3 |
| #12 | 295 | 4 |
| #13 | 520 | 5 |
| #14 | 386 | 4 |
| #15 | 532 | 5 |
| #16 | 377 | 4 |
| #17 | 164 | 3 |
| #18 | 395 | 4 |
| | | |
| --- | --- | --- |
| Hole | Length | Par |
| #1 | 305 | 4 |
| #2 | 312 | 4 |
| #3 | 156 | 3 |
| #4 | 373 | 4 |
| #5 | 313 | 4 |
| #6 | 422 | 5 |
| #7 | 119 | 3 |
| #8 | 354 | 4 |
| #9 | 478 | 5 |
| #10 | 307 | 4 |
| #11 | 131 | 3 |
| #12 | 268 | 4 |
| #13 | 480 | 5 |
| #14 | 368 | 4 |
| #15 | 512 | 5 |
| #16 | 347 | 4 |
| #17 | 154 | 3 |
| #18 | 375 | 4 |
| | | |
| --- | --- | --- |
| Hole | Length | Par |
| #1 | 250 | 4 |
| #2 | 259 | 4 |
| #3 | 100 | 3 |
| #4 | 311 | 4 |
| #5 | 254 | 4 |
| #6 | 327 | 5 |
| #7 | 109 | 3 |
| #8 | 250 | 4 |
| #9 | 359 | 5 |
| #10 | 294 | 4 |
| #11 | 109 | 3 |
| #12 | 247 | 4 |
| #13 | 416 | 5 |
| #14 | 338 | 4 |
| #15 | 439 | 5 |
| #16 | 327 | 4 |
| #17 | 132 | 3 |
| #18 | 233 | 4 |